Mary Black




I met with Mary Black in her studio space at the Mudflat Pottery School in Boston, a few months before her move to NY. We had a wonderful time chatting about her passion, creative process, and her journey as a young artist.

"I'm not searching for that 9 to 5 career. It's a different lifestyle that I'm looking for, as I'm trying to find what makes me happy in the moment."

Originally from North Carolina, Mary Black joined the Fine Arts program as a painting major but quickly discovered a new passion for clay sculpture, which enabled her to expand her creative process into the third dimension. Attracted to abstract shapes and forms, but struggling with the more conceptual focus of the program, she couldn't connect with the work like others did.

"For me, I just knew I needed to make"

Drawn to the more simple and pure aspect of creating, she felt like something was missing.

As she entered the graduate program in Ceramics at the University of Massachusetts Darthmouth, a new realm that was more process focused opened up to her and she felt immediately in tune with it.










"As an artist, you're constantly doubting yourself. You're criticizing everything you do every step of the way."

Sculpture was always tricky for her, in terms of deciding what shape to give it. It never came easy. Grad school has really taught her to keep certain things and leave others, as professors would constantly test students, suggesting changes to their work to see whether they would give in or stick to their guns.


"It's all about making those decisions, and figuring out what is actually yours and theirs. By the end of it, you're so self-aware. But nothing feels better than truly understanding what your work is all about."


As a visiting artist once pointed out to her, she could read the hesitation and doubt through some of Mary's early work. That statement really stuck with her. Although she is still hesitant to see what people think of her work, she has really learned to be more confident and trust what she's doing.



"Make a choice and go for it, don't question it. Otherwise, doubt will show through and the work will seem forced."






"Ceramics is all about community"

For a young artist living in the city and working in a community studio, there simply isn't enough space to create large scale sculptures. Smaller functional wear has allowed her to bake the shapes and bring them back home to work on the finishing touches. It is also more accessible to the consumer and, as she sees it, it's a way for people to own a piece of art on a smaller scale. For Mary, it's also easier to detach herself from functional wear than sculptures, which are so much more personal. So much emotion is involved in the creation of a sculpture that it is just impossible to completely let go.

Unlike sculptures, where artists tend to brood on their own, ceramics has a strong social aspect. It isn't as closed off as artists constantly share glaze recipes and learn from one another. This open aspect of creating and sharing techniques really speaks to Mary's ideal as an artist.

It's all about making connections beyond one realm, to reach consumers in a different way. People connect to functional wear. Come to think of it, everyone has their own way of holding a cup and placing their fingers around it. You start to think about small details like how the cup should hit the lip. All of this becomes part of a very personal ritual.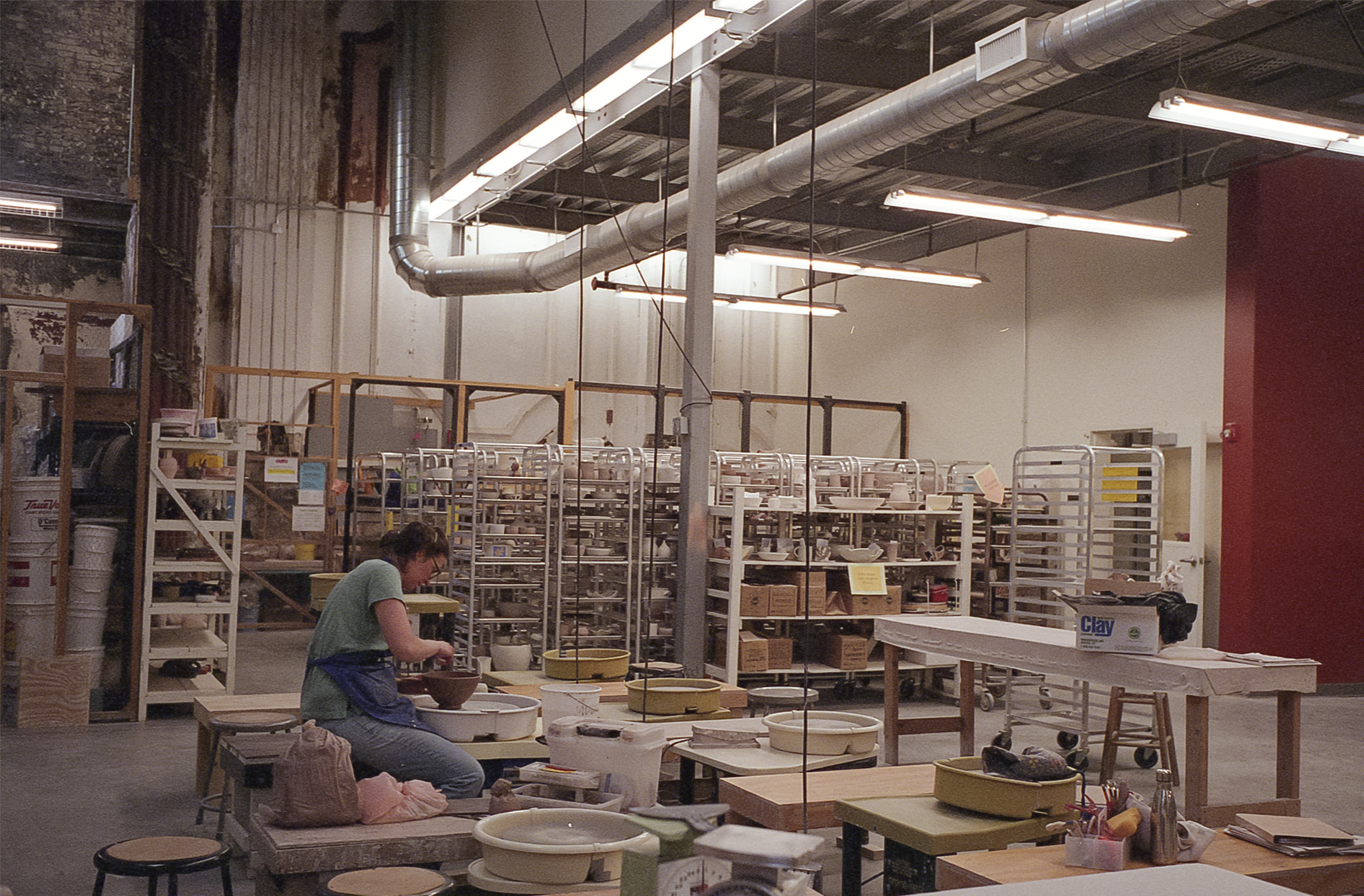 "Hurry up making the form so I can get to the surface!"

Mary has always been more drawn to surface detail, and that shift from painting to sculpture gave her the best of both elements.

She uses a semi-moist underglaze which allows her to paint without the medium soaking completely into the dry clay. Mary doesn't even have a sketchbook anymore, she simply paints freehand onto her forms, immersing herself completely in the process. As she tells me, it's really an organic, almost automatic process.

The designs she creates are strongly influenced by her childhood. Raised in a produce stand, surrounded by flowers and plants, Mary has always been naturally drawn to organic shapes. Her designs reflect her changing moods, from abstract shapes to peaches and flowers.

"You really have to be motivated, because no one else will do it for you"

Choosing art as a career can be a daunting decision. Anyone who's considered it, including myself, has been faced with the same uncertainties. It's often a second job and is such a process that you really have to push yourself to keep at it. As Mary tells me, her biggest fear is to lose that drive. She's seen it for years, people forgetting about their art as they get caught in the pressure of making it out there. To see that someone can just let it all go away, something they are so passionate about, is frightening.

"As an artist, it's important to do what is you, what speaks to you. You don't ever want to feel like you're selling yourself out"

If you ever happen to be in Brooklyn in October, take that opportunity
to check out Mary's work at the pop-up show on October 25th!

http://www.rawartists.org/